Dea-Dea Island in Binuang Sub-District, Polewali Mandar Regency
---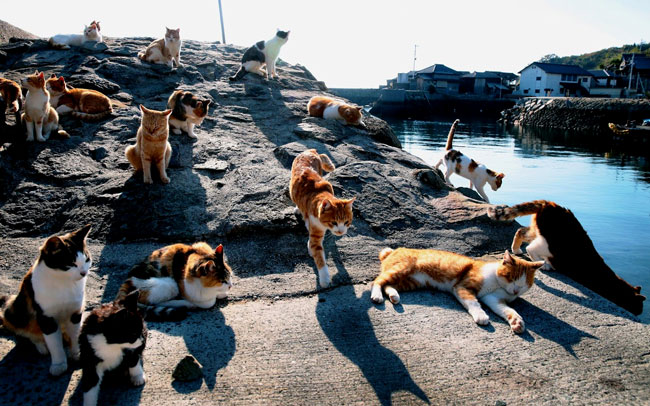 The seven islands of Polewali Mandar or Tonyaman Archipelago become a hot topic among tourists these days are belongs to Indonesia. One of them is called Dea-Dea and it has a unique charm for everyone to enjoy. Like others, it belongs to Binuang Sub-District and offers an easy access to tourists (especially through Tonyaman Port). It is true that each of those islands offers a distinct allure. So, what about this one? Visitors are able to find tons of cats living on this island, as these cute animals live abundantly and comfortably there without any disturbance of human. No wonder, there is another name of this site which is "Kucing" (Cat) Island.
The Nuance
In terms of nuance, Dea-Dea Island is similar to that of Japan's Tashiro Island. The reason is none other than the presence of hundreds of cats that live in this site. Some tourists may ask from where these cats come from for sure. Well, according to local guides, people who live in nearby islands threw wild cats to Dea-Dea in the past. No wonder, as the time went by, these animals reproduced and grew abundantly! What about the landscape of the island, though? The island is smaller than Battoa and Salamaq, but it features nice beaches and hills.
Exploring Dea-Dea Island
Once arriving at the island, tourists may see hundreds of cats welcoming them right away. The fact is that these animals are able to survive there without any help of humans. That means they look for foods and mate naturally, which causes an uncontrollable increase of population. Despite their cute appearance, these cats are considered wild animals so tourists can't approach them carelessly. Some of them are quite tame, though. In this case, visitors should carry cat foods so that they can feed these cats and get along well with them.
For those visiting Dea-Dea Island, they should not forget to carry a camera. They can use it to take selfies with those cats, after all. The next tip is that tourists should consider coming with a local guide. This person helps everyone to get around the island in an efficient manner and he may tell tourists how to approach the cats safely. Even though it takes some money to get the service, it is going to be a worthy expense.
What is more? Aside from watching wild cats, tourists can explore Dea-Dea Island for its natural beauty. The best part of the island perhaps is the coast, where tourists can find a beautiful sea panorama and feel its comfy nuance. Once again, it is important to carry a camera so that tourists can take some good pictures of the sea.
Nearby Attractions
Tangnga Island
Battoa Island
Ujung Terusan
How to Get There
From Polewali Mandar Regency, tourists only need to get to Tonyaman Port in order to rent a boat to Dea-Dea. This trip only takes about 15 minutes, as the distance is 7.3 km. It can even be faster if tourists take Poros Majene – Mamuju Street. Once arriving at the port, they must find a reliable boat service and head to Kucing Island right away.
Where to Stay
Recommended hotels are available in Binuang Sub-District.

Latest News
If you are visiting Polewali Mandar, it's a good idea to play around at Limbong Kamandang Waterfall. This waterfall is located in Kurrak Village, Tapango District, Polewali Mandar Regency, West Sulawesi.Departing 35 kilometers from Polewari Mandar City, Limbong Kamandang Waterfall stretches to offer its stunning natural charm.The natural panorama in this area is very beautiful and natural. The cool air, the shade of the trees, is even more beautiful with the waterfall curtain that rises about 100 meters high.The beauty of Limbong Kamandang Waterfall can be seen very clearly from…
---
Karampuang Island is a beautiful island located in Karampuang Village, Mamuju District, Mamuju Regency, West Sulawesi Province. By boarding the ship as the only means of transportation to Karampuang Island from the port of Mamuju, visitors can already enjoy the beauty of island which is also known as the crocodile island by the local community because of its shape similar to the reptile when viewed from above. Even though ships are the only access to go to Karampuang Island, activities from Mamuju city to Karampuang Island have never been lonely.…
---
  Polewali Mandar Regency becomes increasingly popular these days, especially due to the presence of Tonyaman Archipelago. However, people have other reasons for visiting the region! These include the interest in local culture and tradition. Not only Polman becomes the home of Mandar Tribe, but it also offers various interesting traditions that tourists can enjoy during the visit. In fact, it may require much time to enjoy all these traditions as there are many of them. Plus, tourists need the help of a local guide who can explain thoroughly regarding…
---
Dato Beach, Majene or better known as Pantai Pasir Putih Dato Pangele, is located at 7 kilometer from the City of Majene, West Sulawesi. To go to this resort, we use private vehicles or rental vehicles, about 15 minutes from the town of Majene. The road is quite smooth, and we will pass through a small forest and gardens. After arriving at beach's parking lot, we have to go for 20 meters down the cliff through the stone stairs. The beauty of Dato beach is divided into two parts: the…
---