Limbong Sitodo Natural Bath in Anreapi Sub-District, Polewali Mandar Regency
---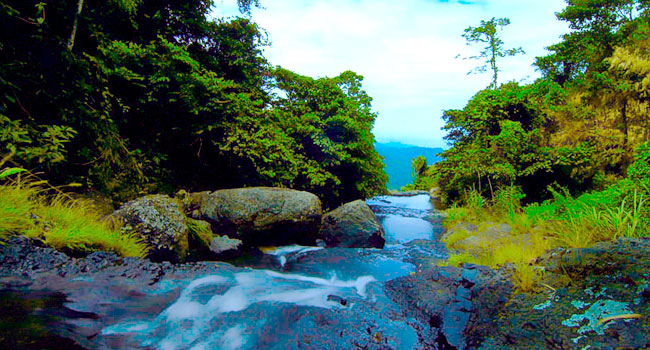 Polewali Mandar Regency becomes one of the most recommended vacation destinations for those who are visiting Indonesia. Thanks to many options of natural attractions, tourists are able to spend an unforgettable holiday in serene nature with their families. As for the reference, there is Limbong Sitodo Natural Park of Anreapi Sub-District. To be exact, it resides in Kunyi Village and located near to a famous waterfall called Indo Rannuang. Visitors have a common reason to come to the site, which is to take a bath in a soothing river surrounded by the pristine environment.
The Nuance
Limbong Sitodo is, in a nutshell, a river where tourists can enjoy both swimming and taking a bath comfortably. Due to the low current and various depths, everyone is allowed to get in including adults and kids. Parents should supervise their kids during the activity, though. Well, aside from the allure of the river, visitors can feel the comfortable nuance of the site due to the presence of shady trees and big stones that scatter there! Even the landscape is suitable for trekking and exploration, especially for those who want to visit nearby waterfalls.
Exploring Limbong Sitodo Natural Bath
Tourists indeed have a distinct reason to visit Limbong Sitodo in Indonesia. For example, they want to get away from daily boring routines and eradicate stresses in an instant. It is because the site is surrounded by shady trees and features a serene atmosphere. Even the appearance of the river looks calming! It definitely feels more comfortable if tourists get in the water and take a bath in it, no? For the best sensation, it is recommended to come to the site in the morning when the atmosphere is the freshest. Make sure to avoid the rainy season, though.
The next reason why many people are interested in visiting Limbong Sitodo Natural bath is the trekking opportunity. Thanks to the Indonesia's landscape. Everyone can conduct exploration easily without spending too much stamina and time. Perhaps, the best destination is Indo Rannuang Waterfall that resides near to the site (which is about 5 km). Despite the fact, it is important to wear comfortable footwear in order to avoid getting slipped during trekking.
For first-timers, it is important to prepare extra clothes before heading to Limbong Sitodo Natural Bath. Another important consideration is that they should avoid littering at all costs. After bathing and trekking, before going back to Polewali Mandar, tourists should not miss the chance to drop by in nearby village and watch villagers working on their cocoa farms.
Nearby Attractions
Sarong Allo Park
Rawa Bangun
How to Get There
The distance between Polewali Mandar Regency and Limbong Sitodo Natural Bath is 9.1 km, so the trip may take about 20 minutes to get to the site. The first thing to do is to get to Anreapi Sub-District by any local transportation service. Next, they only need to visit Kunyi Village where the Limbong Sitodo resides. It won't be a long trip, but it can be faster if they take Kunyi Street for sure.
Where to Stay
Al-Farazan Cottage
Bumi Raya Hotel
Simpati Inn


Latest News
If you are visiting Polewali Mandar, it's a good idea to play around at Limbong Kamandang Waterfall. This waterfall is located in Kurrak Village, Tapango District, Polewali Mandar Regency, West Sulawesi.Departing 35 kilometers from Polewari Mandar City, Limbong Kamandang Waterfall stretches to offer its stunning natural charm.The natural panorama in this area is very beautiful and natural. The cool air, the shade of the trees, is even more beautiful with the waterfall curtain that rises about 100 meters high.The beauty of Limbong Kamandang Waterfall can be seen very clearly from…
---
Karampuang Island is a beautiful island located in Karampuang Village, Mamuju District, Mamuju Regency, West Sulawesi Province. By boarding the ship as the only means of transportation to Karampuang Island from the port of Mamuju, visitors can already enjoy the beauty of island which is also known as the crocodile island by the local community because of its shape similar to the reptile when viewed from above. Even though ships are the only access to go to Karampuang Island, activities from Mamuju city to Karampuang Island have never been lonely.…
---
  Polewali Mandar Regency becomes increasingly popular these days, especially due to the presence of Tonyaman Archipelago. However, people have other reasons for visiting the region! These include the interest in local culture and tradition. Not only Polman becomes the home of Mandar Tribe, but it also offers various interesting traditions that tourists can enjoy during the visit. In fact, it may require much time to enjoy all these traditions as there are many of them. Plus, tourists need the help of a local guide who can explain thoroughly regarding…
---
Dato Beach, Majene or better known as Pantai Pasir Putih Dato Pangele, is located at 7 kilometer from the City of Majene, West Sulawesi. To go to this resort, we use private vehicles or rental vehicles, about 15 minutes from the town of Majene. The road is quite smooth, and we will pass through a small forest and gardens. After arriving at beach's parking lot, we have to go for 20 meters down the cliff through the stone stairs. The beauty of Dato beach is divided into two parts: the…
---