Gusung Toraja in Binuang Sub-District, Polewali Mandar Regency
---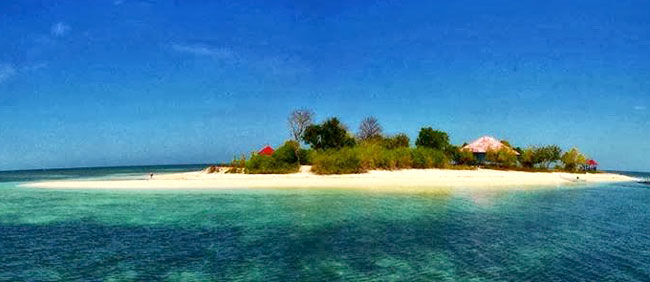 "Gusung" means a pile of sand that makes a small island. Polewali Mandar Regency also has one called Gusung Toraja. In terms of region, it belongs to Binuang Sub-District and located in the south part of Salamaq (Tangnga) Island. Despite the small size and unpopularity, it remains a good vacation destination especially for those who look for a serene nuance to relax and get rid of stresses. People who visit Salamaq also often drop by on this island for more adventure, after all. Not to mention visitors can enjoy stunning sunset and sunrise here.
The Nuance
Just because Gusung Toraja is small, doesn't mean it bores visitors. Instead, it offers a distinct beauty and makes it easier for tourists to explore the area. Here is the fact. There is another name for it, which is Pasir Putih Island. "Pasir" means sand and "Putih" means white. As the name suggests, the island is dominated by soft-textured white sand! Other features complete the island, though, including small bushes and trees. Even a small villa is available for tourists to rent! Do not forget the fact that several gazebos also reside there.
Exploring Gusung Toraja Indonesia
Despite the small size and secluded location, Gusung Toraja is known by the locals and outsiders. Thanks to the charm and unique landscape. People keep coming to do several activities like photography and relaxation. These days, in fact, visitors come to this tiny island to enjoy camping! They prefer to spend the night near to the coast instead of staying at the available villa, after all. This gives them a new experience and soothing sensation of nature. Somehow, it is the best idea to get away from daily hectic activities!
What is next? As Gusung Toraja Island is located in the south of Tangnga Island, it is suitable for island hopping. That means tourists may ride a boat and hop from one island to another within a day. This is fun, indeed. The only consideration is that they must prepare some money to pay the boat service, which usually becomes more expensive during holidays or weekends. The cost of the trip even gets higher if tourists decide to hire a tour guide, so make sure to be wise about it.
It is true Gusung Toraja is suitable for lessening and spending the night peacefully. It sounds perfect, no? One thing that tourists should know is the inexistence of source of fresh water on the island. That means all visitors should carry enough supplies, especially bottled water, before heading to this small island.
Nearby Attractions
Tangnga Island
Keramasang Island
How to Get There
From Polewali Mandar Regency, tourists only need to get to Tanjung Silopo Port in order to get the first boat. The distance is 11.9 km, so it may take about 18 minutes to get there. The first destination is Keramasang Island and they can take the next boat to Gusung Toraja. As an alternative, they can visit Salamaq Island first and visit the small island afterward.

Where to Stay
Recommended hotels are available in Binuang Sub-District. However, a small villa resides in Gusung Toraja!

Latest News
If you are visiting Polewali Mandar, it's a good idea to play around at Limbong Kamandang Waterfall. This waterfall is located in Kurrak Village, Tapango District, Polewali Mandar Regency, West Sulawesi.Departing 35 kilometers from Polewari Mandar City, Limbong Kamandang Waterfall stretches to offer its stunning natural charm.The natural panorama in this area is very beautiful and natural. The cool air, the shade of the trees, is even more beautiful with the waterfall curtain that rises about 100 meters high.The beauty of Limbong Kamandang Waterfall can be seen very clearly from…
---
Karampuang Island is a beautiful island located in Karampuang Village, Mamuju District, Mamuju Regency, West Sulawesi Province. By boarding the ship as the only means of transportation to Karampuang Island from the port of Mamuju, visitors can already enjoy the beauty of island which is also known as the crocodile island by the local community because of its shape similar to the reptile when viewed from above. Even though ships are the only access to go to Karampuang Island, activities from Mamuju city to Karampuang Island have never been lonely.…
---
  Polewali Mandar Regency becomes increasingly popular these days, especially due to the presence of Tonyaman Archipelago. However, people have other reasons for visiting the region! These include the interest in local culture and tradition. Not only Polman becomes the home of Mandar Tribe, but it also offers various interesting traditions that tourists can enjoy during the visit. In fact, it may require much time to enjoy all these traditions as there are many of them. Plus, tourists need the help of a local guide who can explain thoroughly regarding…
---
Dato Beach, Majene or better known as Pantai Pasir Putih Dato Pangele, is located at 7 kilometer from the City of Majene, West Sulawesi. To go to this resort, we use private vehicles or rental vehicles, about 15 minutes from the town of Majene. The road is quite smooth, and we will pass through a small forest and gardens. After arriving at beach's parking lot, we have to go for 20 meters down the cliff through the stone stairs. The beauty of Dato beach is divided into two parts: the…
---