Tanjung Buku Beach in Mapili Sub-District, Polewali Mandar Regency
---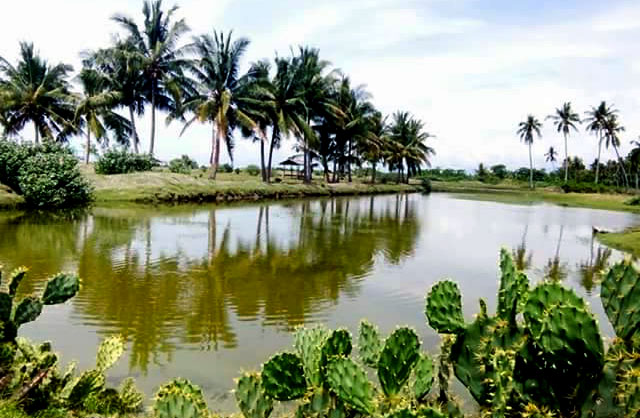 Another good choice of beaches is available in Polewali Mandar Regency and the name is Tanjung Buku. As tourists may expect, it is located in Buku Village and belongs to Mapili Sub-District. The beach has become the part of Mandar Tribe's culture in the past, after all. It is because those people took advantage of beaches to support their life especially related to fishing. These days, though, these beaches become a nice place for tourists to spend a wonderful holiday. The important question is what makes Tanjung Buku unique as compared to other beaches of Polman.
The Nuance
Well, tourists should not expect a beach with flawless white sand when visiting Tanjung Buku Beach. Instead, they may see the exotic light brown sand beach with moderate waves. Several bushes and trees grow in the back, but their location is a little bit far from the shoreline. This makes the atmosphere a little bit hot at noon but offers a more open panorama and stunning sea scenery. The most noticeable feature of this beach is the presence of abandoned fishermen boats. Tourists can ride them and take pictures of these boats freely, therefore.
Exploring Tanjung Buku Beach
Tourists can do many fun activities once arriving at Tanjung Buku Beach. For example, it is beach walking. What people need to do is to explore the shoreline and walk on the beach comfortably. The breezy wind of the coast is quite relaxing, after all. Not to mention exotic sea scenery makes it more interesting to do. The only thing to consider is that tourists must wear sandals or other comfy footwear while beach walking. It is because the sand is a little bit rough due to the presence of gravels and some pieces of corals that scatter on the beach.
Aside from beach walking, tourists can enjoy photography. Thanks to beautiful objects that scatter in different parts of the beach. It is going to be easy to collect perfect photos or pictures there. It is not only the exotic sea scenery, but tourists can take pictures of old fisherman's boats or taking selfies in front of them. The serenity of the beach helps them to do photography in a comfortable manner, after all. It is because they won't be disturbed by the presence of the crowd.
It is true each beach of Polewali Mandar Regency offers a distinct allure to tourists. What about Tanjung Buku? Well, the presence of abandoned fisherman's boats is one thing. Tourists can also find signature plants of the site especially Agave Angustifolia (Kelumpang Telur) and cactus! These make a perfect object of photography, no?
Nearby Attractions
Garassi Beach
Mampie Beach
Gonda Mangrove Park (GMP)
How to Get There
The distance between Polewali Mandar Regency and Tanjung Buku Beach is 40.4 km. That means the trip may take about 1 hour and 6 minutes to get there. Have no worries. It can be faster if they take Poros Majene – Mamuju Street. The first thing to do is to get to Mapili Sub-District by any local transportation service. Next, tourists can simply head to Buku Village and reach the beach right away.
Where to Stay
Harlia Cottage
Pacific Hotel
Marna Inn
Istana Hotel

Latest News
If you are visiting Polewali Mandar, it's a good idea to play around at Limbong Kamandang Waterfall. This waterfall is located in Kurrak Village, Tapango District, Polewali Mandar Regency, West Sulawesi.Departing 35 kilometers from Polewari Mandar City, Limbong Kamandang Waterfall stretches to offer its stunning natural charm.The natural panorama in this area is very beautiful and natural. The cool air, the shade of the trees, is even more beautiful with the waterfall curtain that rises about 100 meters high.The beauty of Limbong Kamandang Waterfall can be seen very clearly from…
---
Karampuang Island is a beautiful island located in Karampuang Village, Mamuju District, Mamuju Regency, West Sulawesi Province. By boarding the ship as the only means of transportation to Karampuang Island from the port of Mamuju, visitors can already enjoy the beauty of island which is also known as the crocodile island by the local community because of its shape similar to the reptile when viewed from above. Even though ships are the only access to go to Karampuang Island, activities from Mamuju city to Karampuang Island have never been lonely.…
---
  Polewali Mandar Regency becomes increasingly popular these days, especially due to the presence of Tonyaman Archipelago. However, people have other reasons for visiting the region! These include the interest in local culture and tradition. Not only Polman becomes the home of Mandar Tribe, but it also offers various interesting traditions that tourists can enjoy during the visit. In fact, it may require much time to enjoy all these traditions as there are many of them. Plus, tourists need the help of a local guide who can explain thoroughly regarding…
---
Dato Beach, Majene or better known as Pantai Pasir Putih Dato Pangele, is located at 7 kilometer from the City of Majene, West Sulawesi. To go to this resort, we use private vehicles or rental vehicles, about 15 minutes from the town of Majene. The road is quite smooth, and we will pass through a small forest and gardens. After arriving at beach's parking lot, we have to go for 20 meters down the cliff through the stone stairs. The beauty of Dato beach is divided into two parts: the…
---