Traditional House of Polewali Mandar Regency, West Sulawesi Province
---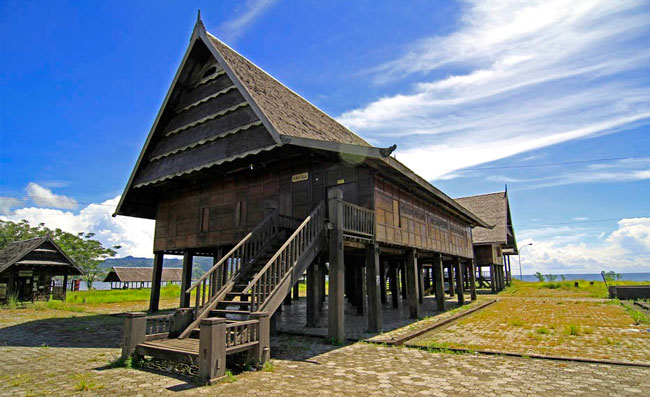 Attractive natural attractions, interesting local dances, delicious foods, and friendly villagers have made Polewali Mandar Regency popular these days. However, another allure is available for tourists to enjoy which is the traditional house! Each region owns one after all, so it would be disappointing if tourists miss the chance to watch and explore this house while spending a vacation in Polman. One thing, they can only find these houses in a particular area called Somba Opu complex. So, it is considered the best location to witness the house and take pictures of it.
The Nuance
Once arriving at the complex, tourists may find 3 traditional houses of Mandar. These include the Majene, Mamuju, and Polewali Mandar. The good thing is that these houses come in a good condition due to good management of the keeper. One of them, Mandar House, has a wide yard with the width of 15 meters and the length of 25 meters. As for the fences, the house features flowers and plants that surround the house beautifully. This kind of nuance indeed may impress any visitors and somehow gives a soothing sensation to them.
Exploring Traditional House of Polewali Mandar Regency
The most famous one is none other than Polewali Mandar House, as it appears the neatest as compared to others. The house is built using sturdy woods and it features detailed ornaments on all sides. Not to mention beautiful carvings give a significant improvement in terms of beauty. The most noticeable characteristic is definitely the presence of lateral stairs located on its lateral side, having an indented cupola (which looks unique). Another noticeable characteristic is the complicated and impressive ornaments, for sure.
On the outdoor walls and windows, tourists may find complicated designs as well. The windows feature beautiful carvings on the sides, which make them more stand out. What about the inside of the house? It consists of two parts, actually. In terms of appearance, both of them look similar to a stage. There is also a vast middle room, having no divider at all. No wonder, it feels quite comfortable when being in that room.
As for tourists, the presence of Polewali Mandar Traditional House gives them an opportunity to learn local's architecture. Plus, they have the chance to collect beautiful pictures of the house during the visit. The fact is that it is free to enter the house, so they can take photos inside as well. What they must avoid are any acts that may spoil the beauty of the house and its surrounding. In other words, littering is highly prohibited!
Nearby Attractions
Bahari Beach
Tumpiling Fish Pond
7 Islands of Polewali
Rawa Bangun
Limbung Sitodo
Limbung Kamandang
Sarung Allo Park
How to Get There
As mentioned before, the best place to see those houses is at Somba Opu complex. First, tourists should reach Polewali Mandar Regency from their location. For example, it may take 4 hours if they come from Mamuju City as the distance is 202.9 km. Have no worries. It is easy to get a local transportation service, so everyone can get there easily.
Where to Stay
Ratih Hotel
Lilianto Hotel
Dirja Guesthouse
Mamasa Cottage
Mery Cottage
Indah Hotel

Latest News
If you are visiting Polewali Mandar, it's a good idea to play around at Limbong Kamandang Waterfall. This waterfall is located in Kurrak Village, Tapango District, Polewali Mandar Regency, West Sulawesi.Departing 35 kilometers from Polewari Mandar City, Limbong Kamandang Waterfall stretches to offer its stunning natural charm.The natural panorama in this area is very beautiful and natural. The cool air, the shade of the trees, is even more beautiful with the waterfall curtain that rises about 100 meters high.The beauty of Limbong Kamandang Waterfall can be seen very clearly from…
---
Karampuang Island is a beautiful island located in Karampuang Village, Mamuju District, Mamuju Regency, West Sulawesi Province. By boarding the ship as the only means of transportation to Karampuang Island from the port of Mamuju, visitors can already enjoy the beauty of island which is also known as the crocodile island by the local community because of its shape similar to the reptile when viewed from above. Even though ships are the only access to go to Karampuang Island, activities from Mamuju city to Karampuang Island have never been lonely.…
---
  Polewali Mandar Regency becomes increasingly popular these days, especially due to the presence of Tonyaman Archipelago. However, people have other reasons for visiting the region! These include the interest in local culture and tradition. Not only Polman becomes the home of Mandar Tribe, but it also offers various interesting traditions that tourists can enjoy during the visit. In fact, it may require much time to enjoy all these traditions as there are many of them. Plus, tourists need the help of a local guide who can explain thoroughly regarding…
---
Dato Beach, Majene or better known as Pantai Pasir Putih Dato Pangele, is located at 7 kilometer from the City of Majene, West Sulawesi. To go to this resort, we use private vehicles or rental vehicles, about 15 minutes from the town of Majene. The road is quite smooth, and we will pass through a small forest and gardens. After arriving at beach's parking lot, we have to go for 20 meters down the cliff through the stone stairs. The beauty of Dato beach is divided into two parts: the…
---